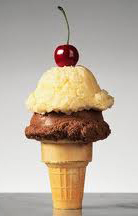 Ahhh… Classic Chinery.  Here's a quick and easy way to get 60,000 American Airlines frequent flyer miles.  That's enough for two free round trip Coach tickets or one First Class ticket!
Citi just rolled out its new CitiBusiness® / AAdvantage® World MasterCard® which will give you 30,000 bonus miles after $1,000 in purchases in the first 3 months of cardmembership.  Citi's personal card, the Citi® Platinum Select® / AAdvantage® World MasterCard® will give you 30,000 bonus miles if you spend $3,000 in the first three months.  Annual fees waived the first year on both cards.
Click on Chip's Favorite Credit Card Offers for up-to-date deals, terms, and conditions on these cards and more.  Email me if you have any questions about which card might be right for your situation.
Self-employed people can get the biz card and be considered a business.  You don't have to have a Corporation or LLC.  If you just said, "A what?" don't worry about it – you don't need one.

What you do is apply for the card as a "sole proprietor", which the IRS defines as "Someone who owns an unincorporated business by himself or herself."  It's completely legal.  In the application put your name as the Business Name and your Social security number if you do not have a Tax ID.  See the application screen capture below.
If you are self-employed, are an independent contractor or have a little business on the side, you are a sole proprietor.  Are you a babysitter, handyman, nanny, dog walker, painter, actor, online entrepreneur, or personal finance blogger?  Congrats you're a sole proprietor!
After applying for the Personal and/or Business cards, you must meet the spending requirements to get the bonus miles.  You can even send someone money via your new credit card at AmazonPayments and meet the requirements quickly – with no fees at all.
> The IRS definition of a Sole Proprietor
> AmazonPayments.com's Amazon WebPay charges No Fees to send money using a credit card
> Will your credit score drop if you apply for new credit? FICO says, "If it does, it probably won't drop much."